Free or low cost fitness ideas in Preston
6 January 2023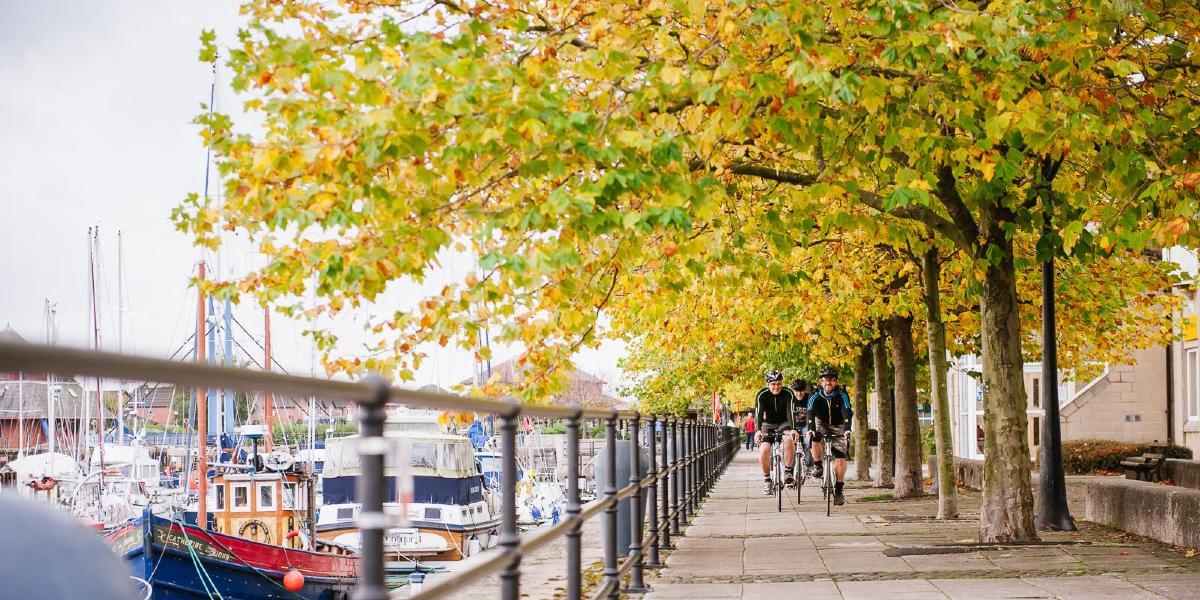 Fun free or low cost health and fitness ideas to kick off the New Year
With Christmas indulgences over with and 2023 here, fitness related goals are one of the most common resolutions to kickstart the New Year. Whilst it's a great resolution to have, it can be costly. However, there are many free or low cost activities you can do in and around Preston to help you get in shape without breaking the bank.
Walking
If you're looking to get healthier and more active without working up too much of a sweat, then why not consider walking.
Preston makes a great place to take up walking with a number of interesting trails both in and outside the city. If you're keen to explore the urban area, then our city tours and trails are a good place to start and pack in plenty of fascinating local history. Or, if scenic open green spaces are more your thing, the city is packed with beautiful parks and nature reserves.


Walking groups
The city is also home to many walking clubs, suitable for all kinds of abilities, which are great for exploring new places in and around the city and meeting new people.
Walking clubs and societies include:
You'll also find fantastic groups for support and improving your mental health, including Mental Health Mates Walk and Talks which combines walking with the opportunity to chat, listen, or just walk with like-minded people. Myplace also offers support for those suffering with mental health as part of an ecotherapy project.
Running
If you're looking to get your heart pumping, whilst enjoying the great outdoors, running is a fantastic way of keeping fit and with the city's abundance of parks and green open spaces, such as the Guild Wheel - Preston's landmark circular route for cycling, walking and running, you won't be short of options.
For those looking to venture outside the city, Preston has some beautiful rural areas on it's doorstep to explore. For example, located just 10 miles outside the city centre, you'll find Beacon Fell. Designed in 1970, it is one of the oldest country parks in England. With fantastic views over the surrounding Lancashire landscape, plenty of wildlife spotting opportunities and it's own sculpture trail, the area packs in plenty of interest.
Preston Parkrun
If you're keen to meet new people whilst you're keeping fit, then why not try out Preston Parkrun. Held at Avenham and Miller Parks every Saturday at 9am, it is a free, fun, and friendly weekly 5k community event. Walk, jog or run - it's up to you!
Cycling
If you're thinking about getting into cycling, Preston offers a diverse choice of leisurely cycling routes for enjoyable sessions on your bike.
Ribble Link Canal
The Ribble Link Canal is just one of the routes that provides a great spot for cycling around Ashton and Lea. Connecting with the Lancaster Canal and flaunting some great statues to spot en route, the Ribble Link makes an interesting and relaxing day out.
For more details visit AllTrails - The Ribble Millennium Link.
Guild Wheel
Perhaps the most notable location for cycling in Preston is the Guild Wheel - a varied 21 mile circular route linking the city with the countryside, taking you on a tour of the Preston's parks, rivers, docklands and green spaces.
With multiple get on and exit points along the route, you can opt to take on the full loop or cycle sections - making it a great choice for a range of abilities.
Park rides
If you're looking for options to ease you in gently or eager to take the kids out with you, then park rides make a great, predominantly flat, family-friendly choice.
Avenham and Miller Park
Avenham and Miller Parks makes a picturesque place to cycle being situated by the River Ribble and offering up one of the finest examples of Victorian parkland in the Northwest. With a mix of diverse cycling routes taking in many interesting features, along with the Pavilion Cafe (the ideal refreshment pitstop), you can be sure to enjoy your park ride experience.
Haslam Park
If you're keen on getting even closer to nature, then Haslam Park makes a good option. Aside from a lovely pond and tree-lined avenue, the Edwardian Park also boasts its own nature reserve - great for the wildlife lovers amongst us.
Ashton Park
Easily accessible by bike with a large green open space, Ashton Park makes a great choice for a quick fitness fix. It's also very close to Preston Docks, should you wish to extend your ride further and pedal around the Marina.
Moor Park
Being Preston's oldest and largest designated parkland, Moor Park makes an ideal park ride with it's extensive flat paths to explore against the impressive Deepdale Stadium backdrop. Plus, if you find yourself in need of a rest break, the Rosemary on the Park cafe makes an ideal place to recharge with refreshments and a large lunch and snack menu.
Swimming at Better Fulwood or West View Leisure Centre
For those rainy days when you don't feel like getting out, why not head over to Fulwood or West View Leisure Centre and take a dip in one of their 25 metre pools. Not only are the pools ideal for a leisurely swim, they also offer fun swims for the family.
For more information visit Better - Preston.
#VisitPreston - Share your experiences
Share your Preston adventures and discover new places to enjoy using #VisitPreston.