Moor Park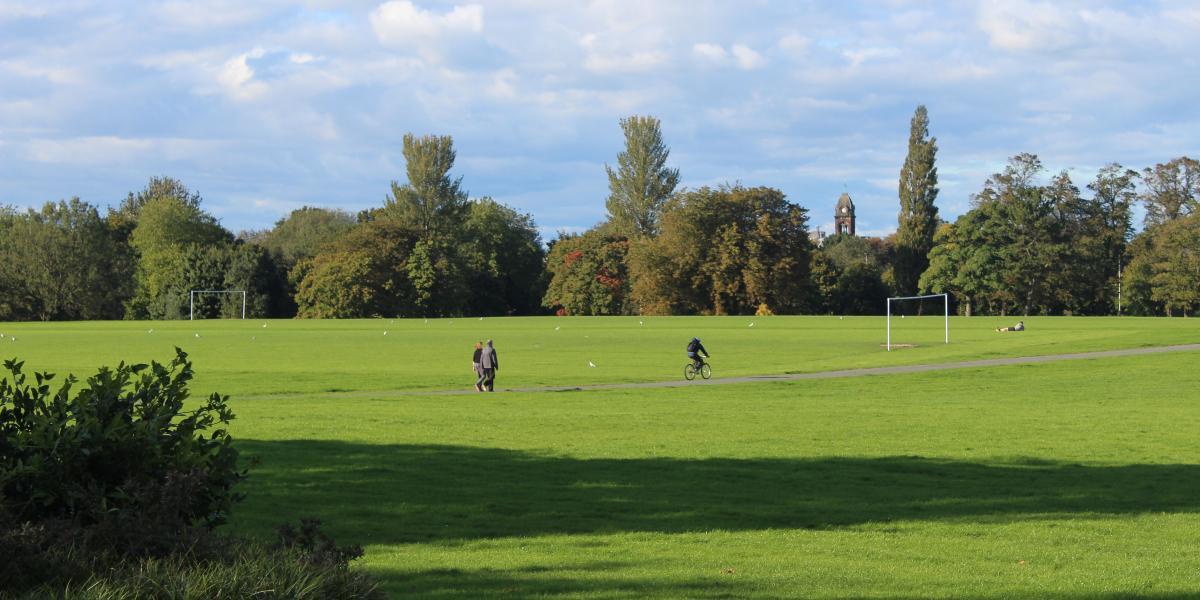 The Grade II* listed Moor Park sits on the outskirts of Preston city centre, retaining a Green Flag Award in recognition of its heritage and maintenance.
As the city's oldest and largest parkland, Moor Park offers vast open green spaces and notable beauty spots. With so many paths and so much space, you're free to walk, run, cycle, or even skate in the park's designated skatepark.
Moor Park makes a fool-proof visit for sports fans and families, thanks to its wide variety of sports and recreational facilities and children's play areas.
Facilities
Car parking
Public toilets
Notice boards, directional signs and information boards
Two children's play areas
Observatory and weather station
Grotto and decorative garden
Sport and activities
Alongside a network of footpaths and cycle paths, Moor Park is a haven for sports and activities. The park currently boasts:
Two multi-use games areas
Adizone outdoor gym
Four bowling greens
Two outdoor table tennis tables
Basketball courts
5-a-side football courts
Artificial cricket wickets
Eight football pitches*
*To book a pitch visit Preston City Council - Football pitches.
Moor Park observatory
A unique feature to keep your eyes peeled for is the Jeremiah Horrocks observatory. Built by Preston Council, the observatory opened on the day of the 1927 solar eclipse. Recently renovated, as part of a Heritage Lottery Fund restoration project, the observatory now belongs to the University of Central Lancashire. The building also operates as a weather station and opens for public viewing and talks at special events throughout the year.
Events
Moor Park hosts a variety of events throughout the year. From night time bat walks to music festivals, there's plenty to get excited about.
For details of current park events see our What's on.
Dogs in parks
Well-behaved dogs are welcome in Moor Park and should be kept on a lead where necessary. Please keep dogs under control, clean up after them and take care when passing other visitors with dogs. Dogs must not enter the children's play areas, multi-use games areas, ball courts, bowling greens, skateparks, ponds, water features, and any area where sports and activities are taking place. For more details on dog laws in Preston visit Preston City Council - Dog laws in Preston.
Our dog-friendly itinerary also lists dog-friendly activities and places to eat and drink when visiting Moor Park.
Parking
Free parking is available on-site and can be found opposite the Deepdale Stadium (PR1 6RU). Limited parking is also available on Moor Park Avenue (PR1 6AS).
Disabled access
Disabled toilets are available in the Moor Park bowling pavilion. The park is suitable for disabled access and includes well-maintained and level paths.
History and tours
Moor Park's history dates all the way back to the 17th century. To read about the fascinating stories the park has to tell see Moor Park History.
Moor Park virtual tour
Take our virtual tour around Moor Park to view all its key sights and learn its history, complete with historical photographs.
Moor Park history podcast
Why not listen to Moor Park's historic past whilst wandering around this beautiful Grade II* listed space by visiting SoundCloud - Moor Park history podcast.
Get involved
Established in 2002, the Friends of Moor Park are a small and friendly group who welcome new members for occasional help. The group are involved in the organisation of community events, contribute to management decisions and help raise funding for improvements and new facilities.
For more details on the Friends of Moor Park and how to join visit Preston City Council - Friends of the park.
#VisitPreston - Share your experiences
Share your Preston adventures and discover new places to enjoy using #VisitPreston.
Map addresses for Moor Park
Moor Park, Preston, PR1 6AS.
Moor Park Avenue Parking: Moor Park Avenue, Preston, PR1 6AS.
Moor Park Parking: Sir Tom Finney Way, PR1 6RU.