High Street Shopping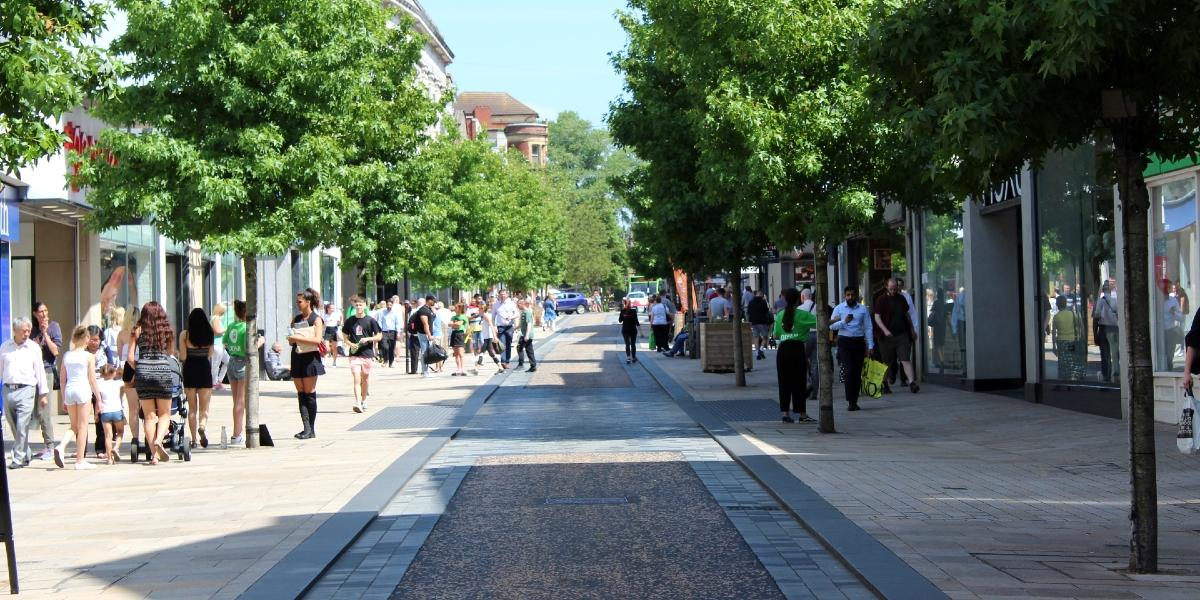 Along Fishergate high street you will find an assortment of popular places to shop, eat, and drink. These places include fashion and shoe retailers, beauty salons, travel groups, and cafés.
Breaking off from the high street is Cheapside, home to Preston Flag Market, the Harris, a number of big brand shops, and independent stores and cafés. Cheapside leads to even more shopping and dining options around Preston Markets and Friargate.
If you're looking for something off the beaten track, you will also find quaint side streets stemming from Fishergate high street. Side streets include the cobbled Winckley Street which - as well as being picturesque - offers independent shops, a variety of cafés, and contemporary bars.
High street shops
Whether you're looking for fashion, homeware, gadgets, or something different, you will find all you need along Fishergate high street.
Stores include:
Primark
Lush
Holland and Barrett
Clintons
Next
Whittles
Clarks
WH Smith
Marks and Spencer
Bodycare
Boots
JD Sports
Office
Ann Summers
Tessuti
Waterstones
Foot Locker
Shopping centres
Fishergate Shopping Centre, opposite Preston Train Station, marks the start of Fishergate high street and makes a fine start to a shopping spree. The centre is home to a large TK Maxx and TJ Hughes as well as independent fashion and homeware shops.
Midway along the high street is St George's Shopping Centre, Preston's largest shopping centre. From stationary and beauty to fashion and toys, you're sure to find something for everyone inside.
Heading towards the end of Fishergate high street you can admire the Grade II listed Miller Arcade, perfect for even more shopping, grabbing a bite to eat, or enjoying a relaxing drink. This grand Victorian building is well worth a visit for both shoppers and those who appreciate history and architecture.
Eat and drink
Preston's high street has all you need to keep you fuelled for shopping. For a full list of places to eat and drink see our Food and Drink directory.
On the go
If you're after a bite to eat on the go then you can choose from a variety of popular fast food and bakery chains or independent eateries, such as Bob and Berts and the renowned Falafel Express.
Light bites and drinks
For caffeine boosts or relaxing bites to eat, Fishergate high street has a number of popular cafés, including Brucciani's and Costa. There are also a variety of independent cafés serving breakfast, lunch, snacks, cakes, and refreshing drinks and coffee.
Your options don't end there, down the side streets are an array of cafés, including Ravenous - where you can relax with seriously tasty food and drink.
Lunch and evening meals
When looking for something more hearty and for evening meals, you'll find a number of restaurants dotted along the high street and tucked down its side streets. You can sample some French dishes from the popular Bistrot Pierre, share some tapas at Fino Tapas, or tuck into some traditional and hearty grub at one of the city's bars and pubs.
Independent high street
Preston's high street isn't just home to big brand names, there is also a colourful mix of independent shops to discover. Along Fishergate high street, Cheapside, and side streets, are a number of independent shops selling items from records and jewellery to vintage clothing and lingerie.
#VisitPreston - Share your experiences
Share your Preston adventures and discover new places to enjoy using #VisitPreston.
Map and directions
Fishergate High Street is located in Preston City Centre. For nearby car parks see City Centre Parking.
Public transport directions
Bus: Fishergate High Street is located 0.4 miles from Preston Bus Station, roughly an 8 minute walk.
Train: You will find Fishergate High Street directly ahead of you when exiting Preston Train Station's main entrance/exit, roughly a 1 minute walk.
Map address for Fishergate High Street
Approximate address for SatNav: Fishergate High Street, Preston, PR1 2HU.