Preston pubs make it into the new Good Beer Guide
18 October 2023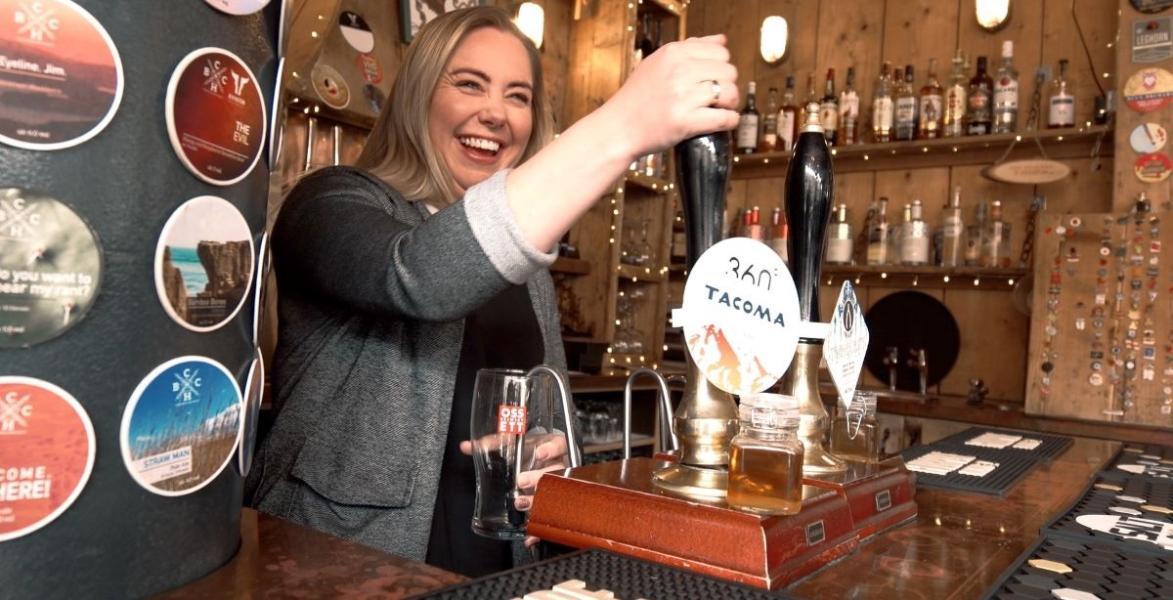 Find out which pubs in Preston have made it to the UK's best selling beer and pub guide.
The Campaign for Real Ale's (CAMRA) has recently published it's new Good Beer Guide 2024 with a number of pubs in Preston making the list.
Now on its 51st edition, the ever popular guide is a go to for beer aficionados when it comes to scouting out and sampling some of the very best pubs, ale houses and tap rooms in the country.
Preston pubs recommended by CAMRA Good Beer Guide
If you're looking to grab a pint in one of the pubs which made the list, here's a rundown on those that made the cut:
The Black Horse Preston
Location: Preston City Centre
The Black Horse is a pub like no other. The Grade II listed building dates back to Victorian times and still has a preserved interior, giving you plenty to admire both inside and out. Families are welcome and even well-behaved four-legged friends.
With comfy leather seating, wooden panelling, and ornate detailing, the Black Horse is more than just a pub. Make sure to pay this hidden gem a visit and be sure to select something on their Jukebox too!
The Black Horse is a Robinsons Brewery pub and stocks award-winning ales and guest ales, making it a haven for real ale enthusiasts. You can also enjoy classic beers and an eclectic choice of wines, spirits, soft drinks and home-cooked pub food.
Guild Ale House
Location - Preston City Centre
The Guild Ale House is a cosy venue mixing up traditional with modern to create a fun and friendly atmosphere, perfect for meeting up with friends over some quality drinks! The Guild Ale House is also a dog-friendly establishment, which welcomes well behaved furry companions.
This pub is a must visit for lovers of craft beers and ciders, cask ale and wine, plus they also hosts regular live music events, open mic nights, and much more.
The Orchard
Location - Preston Markets
A warm welcome awaits you at this hidden gem. Located in a cosy corner of Preston's Market Hall, The Orchard is a craft beer bar with 10 keg lines, 3 cask beers and an excellent selection of wines, prosecco, cider and spirits.
Sit back, relax and watch the hustle and bustle of Preston Markets from the shelter of the Orchards welcoming glow.
You can also enjoy live music taking place regularly on Saturday evenings throughout the summer period under the market's picturesque Victorian canopy.
The Continental
Location: Preston City Centre
The Continental is picturesquely placed by the banks of the River Ribble, on the edge of Preston's Avenham and Miller Parks. This makes it a staple for summer hangouts, along with its spacious beer garden. During the winter months 'The Snug' - complete with a real fire - provides a cosy retreat to relax and socialise in.
Alongside its abundance of beers and delicious food, The Continental is Preston's indie culture destination with regular live music, theatre, literature, arts, crafts, and festivals as well as film screenings taking place every fortnight.
The pub also welcomes well-behaved dogs both inside their bar and dining areas and in their large beer garden.
Winckley Street Ale House
Location: Preston City Centre
Located along the cobbled Winckley Street, the Winckley Street Ale House isn't just a pretty face. Combining modern with traditional pub, and stocking an array of cask and craft beers, there's something here for everyone.
For lovers of beer, Winckley Street Ale House is the place to discover something new - even from the smallest of microbreweries. Not to mention you can accompany your quality beer with a refined, hearty pub lunch. What's more, four legged friends are welcome, so you can bring along your faithful furry pal.
Plug and Taps
Location - Preston City Centre
Plug and Taps traditional pub vibes are effortlessly mixed with modern decor and a vibrant atmosphere. Their multitude of beers, alongside gins, wines, and other spirits, are sure to get your mouth watering.
The friendly and laid-back spirit of the bar welcomes you in for a casual drink during the week, with outdoor seating for the summer months. Ramping up the evenings and weekends, you can also expect local talent performing live music and specialist DJ nights.
The Twelve Tellers
Location: Preston City Centre
The Twelve Tellers is conveniently located in a Grade II listed building, and former bank, built in the 1900s.
The stylish interior has bundles of room. You can choose from comfy and intimate spaces or seating areas which lend themselves to large groups perfectly.
For those sunny days The Twelve Tellers has a spacious beer garden and for the weekends you'll find a large dance floor ready for dancing the night away.
Stocking all your favourite beers, spirits, and soft drinks for both day and night, it makes a great place to visit.
Vinyl Tap
Location: Preston City Centre
This one-of-a-kind bar plays awesome alternative tracks through their extensive collection of vinyl - choose one of theirs or bring your own! From Joy Division and Men at Work to Greenday and the Pixies, Vinyl Tap have over 1000 records to sift through.
Kick back to some tunes, tuck into some quality food and sample some refreshing craft beer.
Vinyl Tap is a dream for craft beer lovers thanks to their ever-changing guest beers and off the wall brews. On top of this, they have all your usual favourites when it comes to spirits, soft drinks, and more.
As for entertainment, the venue regularly hosts live music, comedy and quiz nights.
Moorbrook Inn
Location: Preston City Centre
Sitting on the edge of the city centre, close to the university, Moorbrook Inn offers a traditional pub setting with plenty of character. With an excellent selection of cask and keg ales, fantastic wood fired pizzas and a cool beer garden to relax in on those warm sunny days, come rain or shine it makes a great go to.
They will also occasionally set the stage for live music, on special nights, so keep an eye on their social media accounts for the next event.
The Old Vic
Location: Preston City Centre
Situated just opposite the main railway station, The Old Vic is one of the city centre's down to earth traditional pubs offering a good stock of real ales with the majority sourced from local breweries. They also offer live sports, hearty pub food and a pool area, making it a great place to visit for drinks and entertainment. And for those warmer season days, they also have a large sun terrace to enjoy some drinks in the sun.
Crafty Beggars
Location: Fulwood
Crafty Beggars Ale House offers up a traditional small pub atmosphere with a warm welcome, fantastic selection of beers and friendly service. They also serve a wide mix of homemade pizzas and host regular quiz and live music nights.
The Tap End
Location: Ashton-on-Ribble
Located close to Preston Docks, The Tap End provides a chilled out atmosphere conducive to conversation and catch ups. Offering a variety of cask ales and keg lines with a wide selection of bottled beer and cans, you'll be spoilt for choice on what drink to settle for.
Discover other places to drink in Preston
To find out about other bars and pubs in the city centre see our pubs and bars section.
#VisitPreston - Share your experiences
Share your Preston adventures and discover new places to enjoy using #VisitPreston.
Map address of Preston Pubs in Good Beer Guide
The Black Horse, 166 Friargate, Preston, PR1 2EJ.
Guild Ale House, 56 Lancaster Road, Preston, PR1 1DD.
The Orchard Craft Beer Bar, Unit C, Market Hall, Earl Street, Preston, PR1 2LA.
The Continental, South Meadow Lane, Preston, Lancashire, PR1 8JP.
Winckley Street Ale House, 8b Winckley Street, Preston, PR1 2AA.
Plug and Taps, 32 Lune Street, Preston, PR1 2NN.
The Twelve Tellers - JD Wetherspoon, 15 Church Street, Preston, PR1 3BQ.
Vinyl Tap Preston, 28-30 Adelphi Street, Preston, PR1 7BE.
The Moorbrook Inn, 370 North Road, Preston, PR1 1RU
The Old Vic, 79 Fishergate, Preston PR1 2UH
Crafty Beggars, 284b Garstang Road, Fulwood, Preston, PR2 9RX
The Tap End, 450 Blackpool Rd, Ashton-on-Ribble, Preston PR2 1HX