Encounter Festival 2023 highlights
22 September 2023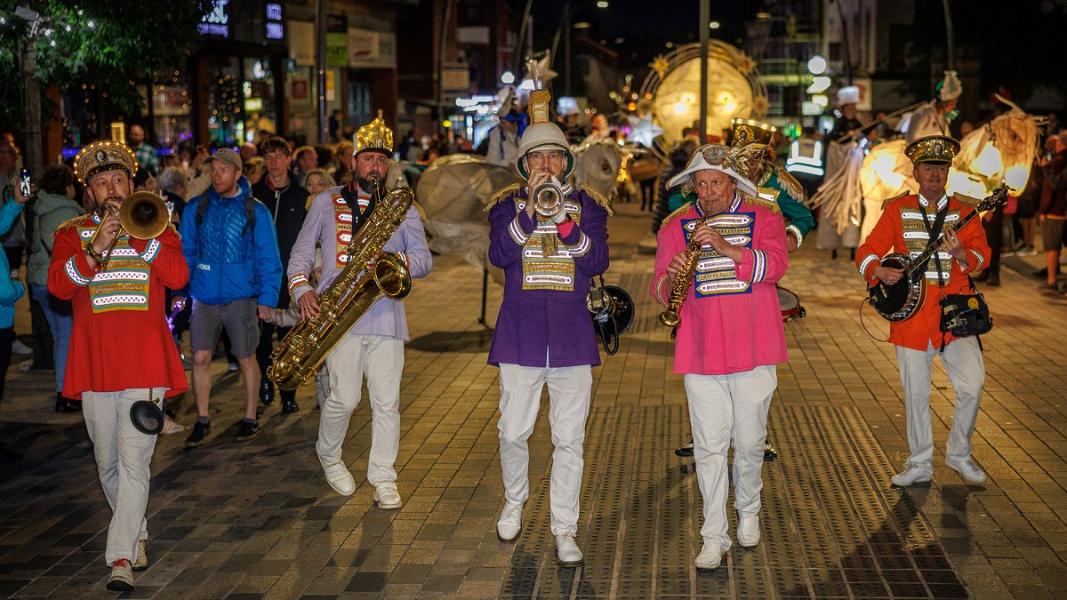 Incredible images from an extraordinary weekend of spectacular performances, inspiring arts and amazing music
Last weekend saw the return of the Encounter Festival, which was a resounding success. The three day arts and cultural extravaganza transformed the heart of Preston into a vibrant hub of creativity, unity, and celebration, through a diverse lineup of performances, workshops, and activities.
The festival once again exceeded all expectations, leaving attendees with great memories and a deep appreciation for the power of art and community.
With so many superb acts and amazing moments, the following images provide just a glimpse into another unforgettable weekend.
Sit back, relive and enjoy.
The Lighter Jams
Friday eve saw the awesome acoustic duo The Lighter Jams kick off the weekend with a selection of popular soul, pop, rock and reggae covers.
Bringing a fresh edge to the evening they delivered an entertaining live show, which filled the room with energy and brought the audience to their feet dancing the night away.
Timeless
Saturday brought an array of captivating art and cultural activity across the city centre, including an impressive 7m high rotating hourglass. Located at Preston Bus Station, spectators and travellers in and out of the city witnessed an innovative fusion of daring acrobatics and beautifully choreographed dance, which explored the fragile relationship between civilisation and nature and the precarious balance that could at any point tip into chaos.
Look Mum, No Hands!
The bus station was also chosen as the backdrop for Look Mum, No Hands!, which engaged viewers from start to finish with their powerful and emotional tale of friendship, growing up and testing their own boundaries. Through unexpected choreography and amazing acrobatics, they delivered a visually stunning and touching performance.
Torchlight Procession
On Saturday eve, the festival's signature Torchlight Procession wound its way through the city streets, bringing a fabulous display of lights, music, and community spirit.
Led by Mr Wilson's Second Liners, a brilliant brass band, and followed by some of Preston's finest procession groups, the procession brought an electric extravaganza of illumination, music and dance through the city centre.
Parade - The Giant Wheel
Sunday saw spectators and passers-by witness a huge 15-foot tall Giant Wheel, driven by circus and street performers, take to Fishergate High Street in a moving performance inspired by the beauty, power and impact of people coming together from different walks of life.
FLOOD
Over on Winckley Square, FLOOD delivered an immersive spectacle to their audience. Through circus, music, acrobatics and personalised sound umbrellas, viewers were whisked away on an epic adventure to the deepest depths of the ocean to understand how coastline and communities have become 'seasick'.
Other engaging workshops, performances and family fun
Over the weekend, the Encounter Festival put on a host of other fantastic performances, engaging workshops and fun for all. From fabulous dance classes and a mix of talented performances on the Community and Traditions Stage to captivating activity sessions for little ones and much more. The event truly brought together the city's brilliant diverse community, through an action packed programme of arts, culture and creativity.
What's on this autumn?
Discover what other fantastic events are taking place in and around the city this season by checking out our regularly updated what's on calendar.
Image credits
Special thanks to the photographers of Preston Photographic Society, who took the amazing photographs featured in this blog.