Summer holidays in Preston 2023 - activities and events kids will love
9 August 2023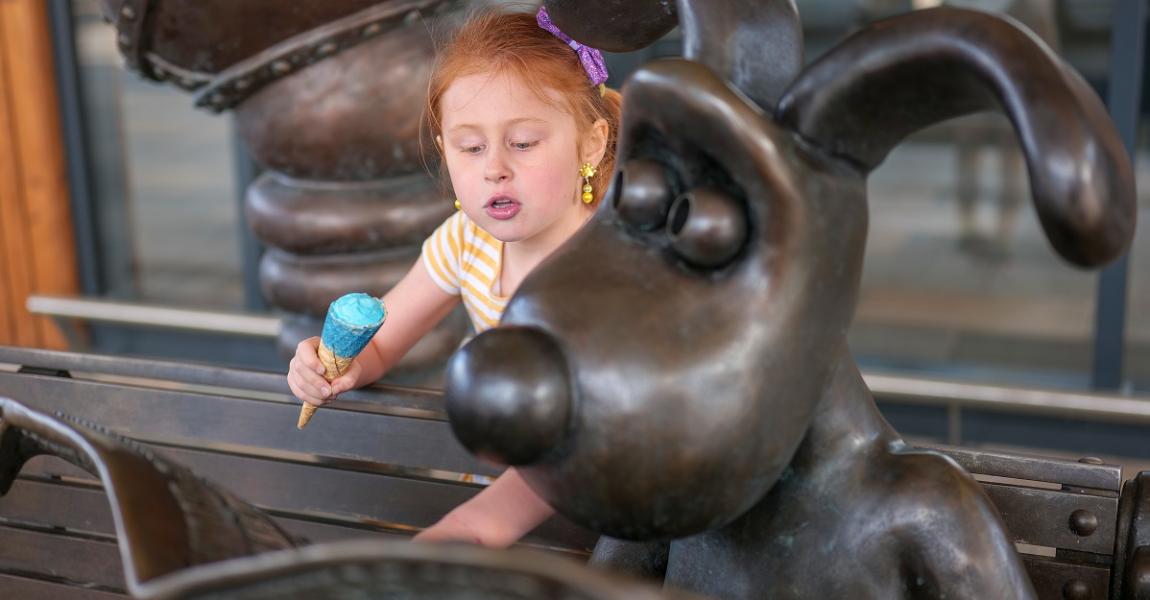 Fun things to do with the kids in Preston this summer.
We're only a couple of weeks into the summer holidays and no doubt the ever familiar phrases of 'I'm bored' and 'what can we do' have already kicked in. To help bust the holiday boredom, we've put together a cracking list of activities that are sure to keep the kids entertained without breaking the bank.
Outdoor summer activity ideas
Preston Spy Mission Treasure Trail
Super spy themed trail for mini detectives
Preston Spy Mission Treasure Trail is a great way to get the whole family out exploring Preston's parks.
Starting at Winckley Square, and visiting both Avenham and Miller Parks, your mission is to find a de-activation code via a series of thought provoking clues and clever problem solving. And, if you fancy breaking off for refreshments or a bite to eat part way through, then Avenham Park's Pavilion Cafe makes the perfect pit stop.
A trip to Billy Bobs Parlour
Step back into a retro 60s parlour with tantalising choices of homemade ice cream
Looking for somewhere a little different from the ordinary to take the kids? At Billy Bobs Parlour you can sample a slice of America without needing to cross the Atlantic.
With their unique, American style diner, ice cream parlour and play set up, kids will love tucking into some of their yummy food classics and fabulous choice of scrumptious ice cream flavours (such as rainbow sherbet and cotton candy), ideal for warm summer days, not to mention their fantastic outdoor play area for under 9s.
Turbary Woods Owl and Bird of Prey Sanctuary
Watch fabulous outdoor flying displays
Turbary Woods Owl and Bird of Prey is a volunteer based, non-profit making sanctuary and makes a great day out for animal lovers of all ages. The rescue and rehabilitation centre is home to an exciting collection of over 90 birds of prey with super knowledgeable staff offering up some fascinating facts about the birds. They also put on fantastic flying displays throughout the summer giving you the chance to watch the birds take to the air and create a truly memorable day out for all the family.
Sculpture trail at Beacon Fell
Spot carved wooden animals
Designed by local artist Thompson Dagnall, the sculpture trail at Beacon Fell Country Park is great for both adults and children. Along this route, you'll find sculptures made from local materials depicting different animals. Keep an eye out for the Heron, Walking Snake, Owl, Living Willow Deer, Black Tiger and Lizard Love Seat. For post walk refreshments or a bite to eat, you could either stop by their visitor centre or bring your own food and drink to enjoy at of their scenic picnic areas.
Picnic at Brock Bottom


Scenic river spot great for families
Brock Bottom river beauty spot is a local hidden gem tucked away amongst the trees on the very western edge of the Forest of Bowland AONB, Brock Bottom is a popular river beauty spot for families to visit during the warmer months for picnics and paddling. For those after combining their picnic with a scenic stroll, the area also includes some relaxing waterside and woodland trails to explore, including the ruins of an old cotton spinning mill, built around 1790.
Rainy day activity ideas
Level
Lots of entertainment options under one roof
Located in the city centre, Level is packed with indoor activities for all ages. From traditional family favourites such as ten pin bowling and crazy golf, through to high energy fun with apocalyptic Preston themed laser tag, you're sure to be entertained for hours. Fancy a drink or bite to eat between activities, but don't want to brave the showers? Head over to Brooklyn Bites on level 2, grab a booth and make an order - be it their Brooklyn Burgers, Hot Dogs or OG Nachos, there's something for everyone
Flip out trampoline park
Adrenaline filled fun
Flip Out Trampoline Park makes a great action packed choice for all the family. Not only does Flip Out have the biggest trampolines in the North West, they also have the biggest dedicated under 7's trampoline area. Head along and have a fantastic time as you bounce about on their legendary trampolines.
Jump Maniax
Giant inflatable fun and games
Jump Maniax inflatable park offers light-hearted and energetic fun for kids and adults. Burn off energy taking on numerous challenges and games, including an inflatable climbing wall, assault course, darts, and so much more.
For under 5s, there's also a dedicated toddler area with an inflatable slide, as well as a soft play area and toys.
Fired 4 U
Bring out their creative side
Help children to discover their creativity at Fired 4 U. Offering a mix of arty classes for both adults and children, from clay forming, pottery painting, copper enamelling, through to foam clay, it makes a great choice for those looking for a more chilled out family afternoon.
Cinema outing
Family film time
Get in some classic family film time with a traditional trip to the cinemas. Weather you fancy the Odeon Cinema, great for a pre or post showing bite to eat at one of Preston Docks waterfront restaurants or would prefer a trip to Vue Cinema to combine your visit with some shopping at Capitol Centre Retail Park, the city offers up two great choices.
Super family summer events
Free summer events at Preston Markets
Head over to Preston Markets this summer to enjoy the sun with an amazing line up of free entertainment, many of which are organised for kids. From a bubble making extravaganza and good-time girls Freda and Rita serving up a large dollop of fun to two hapless PE teachers recreating the Olympic Games with some cones, hula hoops and a tiny megaphone, there's plenty going on to entertain the little ones.
Harris summer activities
Join The Harris around the City Centre for an exciting lineup of family-friendly activities during the summer. The Harris have curated a fantastic series of workshops and performances that will spark creativity, inspire learning, and bring plenty of fun.
Other kid friendly events taking place in and around the city
For more family events taking place around the city this summer see our what's on calendar.
#VisitPreston - Share your experiences
Share your Preston adventures and discover new places to enjoy using #VisitPreston.
Map address for kids summer activities
Preston Spy Mission Treasure Trail starting point -Winckley Square, Preston PR1 3JJ.
Billy Bobs Parlour, North Planks Farm, Garstang Road, Barton, Myerscough, Preston, PR3 5AD.
Turbary Woods Owl and Bird of Prey Sanctuary, Turbary Woods, 92 Chain House Lane, Whitestake, Preston, PR4 4LB.
Sculpture Trail, Beacon Fell Country Park, Carwags Lane, Preston, PR3 2ES
Brock Bottom, Brock Mill Lane, Claughton, Preston PR3 0PP
Level, Lancaster Road, Preston, PR1 1HT
Flip Out Preston Trampoline & Adventure Park, 1B, Mercer Street, Preston, PR1 4LQ.
Jump Maniax, Unit E, Fishwick Park, Mercer Street, Preston, PR1 4LQ.
Fired 4 U, 15-17 Hennel Ln, Walton-le-Dale, Preston PR5 4LA
Odeon Preston, Port Way, Ashton-on-Ribble, Preston, PR2 2YQ.
Vue Cinema Preston, Capitol Centre, London Way, Walton-le-Dale, Preston, PR5 4AW.
Preston Markets, Earl Street, Preston, PR1 2JA