Q and A with Tasha, Community Facilitator at MET
13 June 2023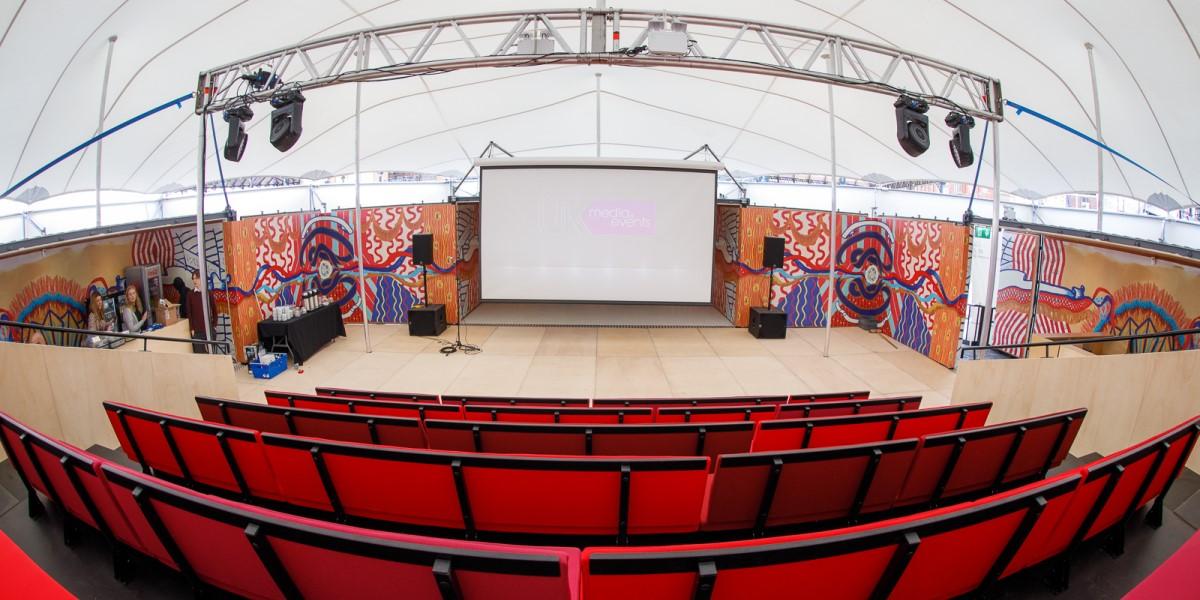 Imagine a vibrant, mobile arts centre that brings culture right to your doorstep.
That's exactly what the Mobile Event Tent (MET) is all about! This innovative and versatile space is designed to ignite creativity, foster connections, and empower diverse communities to embrace the arts in all their magnificent forms.
Step inside the MET, and you'll find a world of possibilities. With the ability to transform into a captivating auditorium, complete with seating for up to 100 spectators to watch performances, music, theatre and films or adapted into a 12x12 meter space which can be used for dances, community meals, and workshops.
Building upon the success of last year's pilot program in the city centre and at the University Square, the MET is partnering with the communities of Ribbleton to co-produce a month-long event programme through July that celebrates local community identities and stories.
Meet Tasha, the founder of Strive 2 thrive Lancashire CIC, a Preston based social enterprise who are leading the community facilitation of the MET this year. The Community Facilitator working hard behind the scenes recruiting community groups and facilitating their use of the MET.
Tasha is partnering with local communities to increase the access of diverse communities to culture in all its forms. The MET's mobility means that it can be moved to different locations to broaden participation in activities, accessing communities of disadvantage particularly away from the city centre.
1. What are some upcoming events that bring the community together?
We are very lucky in Preston to be surrounded by so many talent individuals and organisations that push creativity. This year the MET will see everything from dance, horticulture and tribute acts, to training workshops, cookalongs and even some debates.
2. How does the MET collaborate with local organisations to offer inclusive and diverse programming?
The community have been involved with the planning of events from the beginning and the whole calendar itself is built on collaboration. I have spent the last few weeks visiting all different groups and some individuals, to find out how we can also support them with the process of hosting an event or activity. Removing barriers to access is so important and something we strongly work hard to tackle at S2T, so being in a position to support the community with their events increase the access for all communities to participate.

The MET is in a location that is easily accessible to many communities and further creates those opportunities to engage. Having conversations with groups highlights other areas in which I can support, for example some groups may need help writing risk assessments, help with promotion, or you may want to bring in our young people as volunteers, we can remove those barriers and also help enable them to add an even bigger offer of provision to their service uses or community.
3. How can individuals contribute to the MET's community programming and make a difference?
Anyone can get involved, whether you want to host, volunteer or simply attend an event. If you have an idea that you have always wanted to try, get in touch. We are also connecting people together if they have similar ideas and want to collaborate with other community partners.
4. What are some experiences that children and families can enjoy together?
We have fantastic activity planned for children and young people, including weekly dance classes, sports sessions, training workshops and for the older young people we have a day planned of debate and challenging conversations, hosted by our young people at Strive 2 Thrive. All this is free and comes at a time where families need that extra access to affordable (in this case free) provision as the summer holidays approach.
5. How does the venue nurture and promote emerging talent?
If I'm honest I have never seen a venue that is so well equipped to be flexible in this way, whether you want a theatre or conference style set up and we are able to provide the full equipment and set up and can even bring in an engineer when needed. The potential for artists and creatives to use the venue for their own promotion, to launch their work or to even come out of their comfort zone and perform for the first time, is endless... I would fully encourage any creatives out there to get in touch and use the MET - where else can you host 200 people for free?
The MET is a fully accessible space project managed by In Certain Places and funded by UCLan and Preston City Council.
#VisitPreston - Share your experiences
Share your Preston adventures and discover new places to enjoy using #VisitPreston.
Map address for The MET
Morrisons Car Park Ribbleton, 88-91 Blackpool Road, Ribbleton, Preston, PR1 6US,