Lancashire Photography Festival reveals full list of participating photographers
19 May 2023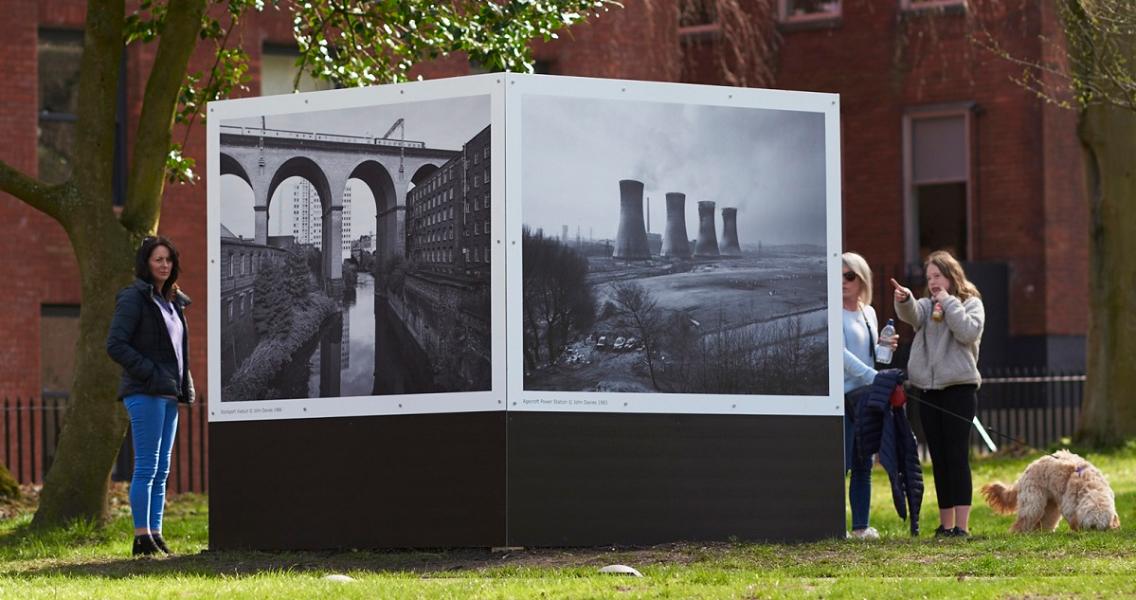 The UK's biggest outdoor photography festival launches in Preston this June displaying major projects from several internationally-acclaimed photographers.
The work of Martin Parr, Jenny Lewis, Maryam Wahid, Ian Beesley, Dougie Wallace, Serena Dzenis, Bobby Beasley, Tim Hetherington and Sarah Maple will be displayed in parks and on walls across the city.
Many more photographers will have large-scale single images on display, while an extensive engagement program will see multiple opportunities for local people to take part in the festival, either by taking photographs or by being photographed.
These engagement projects include the famous Clarks shoes Preston is My Paris advert-inspired portrait session and 48hrs in Preston where photographers have been invited to photograph the city and help create a unique archive of the people who live in Preston.
Thousands of school children across Lancashire will experience the festival via their own private exhibitions on school premises which will be sent to them in the post.
Other events and opportunities during the festival include photo workshops, photo talks, projections, live-stream photo walk, a community photo wall, pop-up portrait sessions, photography performances and a world-first photographic parade.
The lead photographers taking part in Lancashire Photography Festival is led by Martin Parr, the UK's leading documentary photographer who is known around the world for his bold, satirical images documenting human life.
Social-documentary photographer Jenny Lewis exhibits images from her stunning One Day Young projects, where new mothers were photographed within 24 hours of giving birth, in Miller Park.
Yorkshire-based Ian Beesley will show a selection of his stunning black and white Northern industrial images in Preston's stunning Georgian-era Winckley Square.
Street photographer Dougie Wallace, whose critically-acclaimed books include Stags Hens & Bunnies: a Blackpool Story and Harrodsburg (both published by Dewi Lewis), will exhibit his stunning brash people-focused images in Avenham Park.
Maryam Wahid's work focuses on the identity of British Pakistani Muslim woman and will exhibit images from her stunning The Hijab project.
Serena Dzenis surreal Icelandic landscapes, taken during lockdown in 2021, have already won several awards. The breathtaking images will also be displayed in the city's Avenham Park.
As part of several festival legacy projects, photographer Andy Ford will spend this summer photographing Lancashire agricultural shows. This will work will be shown during the festival via projector and will be exhibited during the next festival in 2024.
In 2021, the trial version of the festival saw over 200 large-scale images displayed outdoors across 16 locations across the city, showcasing the work of over 60 photographers.
The festival is funded by Arts Council England, with support from Friends of Winckley Square CIC.
Organiser Garry Cook said:
"I'm delighted to finally unveil the names of the photographers taking part in Lancashire Photography Festival 2023. Some of these photographers have been onboard with the project for months, even before the application process started.

"Everyone I have asked to be part of the festival have said yes and I'm delighted to have not just incredible talent but such a diverse range of images from wildly different subjects and in hugely contrasting styles of work.

"The festival, unique in its scale and outdoor focus in the UK, offers Preston an opportunity to be truly unique in arts and culture. There's still work to do but if I can get more people on board in the next few years I think Preston can finally stand up for itself as the vibrant thriving risk-taking cultural hub it wants to be.

"Photography is one of the UK's most under-rated art form - but it has a dedicated hardcore fan base willing to travel hundreds of miles to see photography exhibitions and great images. There is already a massive network of photographers and photography fans in the city.

"I'm going to build on this wonderful base and, alongside festival projects such the free exhibitions I'm posting to schools, I'm going to make every person in Preston a photography fan, proud of their city.

"I've had such a brilliant response from building owners - who have given me wall spaces - and Preston's park staff. Their co-operation has given the festival the chance to be a cultural event which will change people's perceptions of the city.

"Huge thanks musty also go to Preston's Town's Fund Strategic Board chair John Chesworth who met with me 18 months ago when the project was just an idea on three pieces of A4 paper. He backed me right from the start and, in co-operation with the Friends of Winckley Square, has helped made the festival possible."
Photographer biographies
Martin Parr
Martin Parr is one of the best-known documentary photographers of his generation. He has exhibited all over the world and published over 100 books of his work and edited another 30.
Parr has been member of the Magnum agency since 1994, and was President from 2013 to 2017. His work has been collected by many of the leading museums, from the Tate, the Pompidou and the Museum of Modern Art (New York).
He established the Martin Parr Foundation in 2017.
For more information visit
Jenny Lewis
Jenny Lewis' long-form work investigates different themes within my community. One Day Young is a celebration of women as they transition into motherhood. Around 150 women were captured in their own homes within the first twenty-four hours of having a baby. The series has had international success, winning numerous awards and has been exhibited in the UK and internationally. Lewis studied fine art The University of Central Lancashire.
Maryam Wahid
Maryam Wahid work focuses on her identity as a British Pakistani Muslim woman. Through her deeply-rooted family history and the mass integration of South Asian migrants within the UK, her photographs explore womanhood, memory, migration and the notion of home and belonging.
Her photograph 'Halima Jabeen in her front garden' won the British Journal of Photography's Portrait of Britain award in 2021. She has received awards from Format Festival, Photoworks and The Magenta Foundation.
Wahid's work has been commissioned by The Guardian, The Financial Times, Wellcome Collection, The Telegraph and Digital Photographer Magazine.
Ian Beesley
Ian Beesley is an acclaimed artist and photographer. His work has been exhibited nationally and internationally, including at Milan Photo festival, the International Industrial Photography Festival (Shenyang China), The National Media Museum (Bradford), the People's History Museum (Manchester). In 2022, Beesley exhibited a major retrospective of his work Salts Mill (Saltaire).
His work is held in the collections of the National Media Museum in Bradford, The Royal Photographic Society, The Smithsonian Institute (Washington DC) and the National Museum of Labour (Helsinki), plus many other important National collections.
He has published 25 books. In 2012 he was awarded Honorary Fellowship of the Royal Photographic Society.
Dougie Wallace
Dougie Wallace is internationally recognised for his long-term social documentary projects and distinct direct style of expressive street photography. The Scottish photographer has published six critically-acclaimed books and exhibited at the Sony World Photography Awards (London), Format (Derby) and Fotofestiwal (Lodz, Poland) and Hoxton Gallery (London).
Bobby Beasley
Bobby Beasley is a Hull-based photographer who has gained widespread recognition for his creative use of flash in unusual everyday imagery.
Serena Dzenis
Serena Dzenis' work explores how we interact with the world around us. For 2021+II: Utopia Broadcasting, Australian-born Dzenis photographed industrial structures in the Iceland landscape, capturing them in beautiful pastel-coloured light, questioning science, conservation, environmental issues and the future of humankind through her lens-based art.
All of the award-winning images from 2021+II: Utopia Broadcasting were taken in 2021 in Iceland during the pandemic.
Sarah Maple
Sarah Maple is an award winning visual artist known for her bold, brave, mischievous and controversial artworks that challenge notions of identity and religion. Much of Maple's inspiration originates from her mixed religious and cultural upbringing.
Sarah's artwork, film and performances have been exhibited internationally at galleries and institutions including Tate Britain, Golden Thread Gallery and Tallinn Art Hall. Her recent commissions include The Baltic, New Art Exchange and Sky Arts.
Tim Hetherington
Tim Hetherington was a photojournalist, filmmaker, human rights advocate. He worked and lived in Africa for many years he explored the consequences of conflict and quickly came to document conflict itself before delving deeper to understand the origins and causes of violence. This and other work took him around the world, including a year-long study of American fighting forces in Afghanistan from 2007 to 2008. In 2011 he was killed in a mortar attack in Libya.
Hetherington's output ranged from magazine photo essays, documentary films, art installations, multimedia exhibitions and investigative work for Human Rights Watch and the United Nations.
Andy Ford
Andy Ford is a documentary photographer who has worked in America, Russia, Pakistan and Lithuania. His book More Than 90 Minutes focused on Burnley Football Club. Other project included Cage Fighters (documenting Mixed Martial Arts fighters), Fetlers and Melters (images exploring the last foundries in Lancashire), Talking Shop (commissioned by Mid Pennine Arts) and Lancashire Agriculture Shows (an ongoing project commissioned by Lancashire Photography Festival).
Garry Cook
Garry Cook is a photographer, writer and producer. He lectures in photojournalism at the University of Salford. He created the Arts Council-funded performance-based Lancashire Fringe Festival in 2017 and has organised over 200 performance, theatre and spoken-word events across the country, working mainly in Preston.
Find out more about the festival
For more details about the festival and what's on visit Enjoy the Show - Lancashire Photography Festival.

Email: gazcook@googlemail.com Phone: 07976 579 522
Follow on social
Festival hashtag: #lancsphotofest
#VisitPreston - Share your experiences
Share your Preston adventures and discover new places to enjoy using #VisitPreston.