Encounter Festival's Torchlight Procession to illuminate the streets of Preston
13 September 2023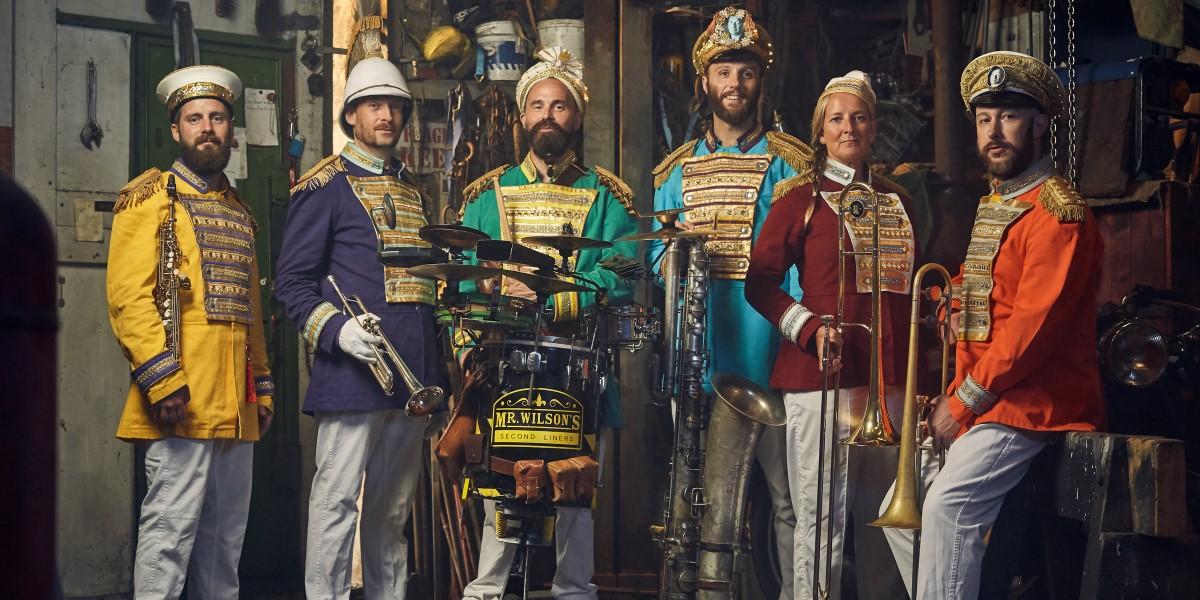 Encounter Festival is thrilled to announce the highly anticipated Torchlight Procession, a magnificent spectacle that will illuminate the streets of Preston with music, dance, and vibrant energy.
Taking place on Saturday 16 September as part of the festival's programme, the Torchlight Procession promises to be a highlight of the weekend, captivating audiences of all ages.
The procession will begin from Moor Park and will be led by the sensational Mr Wilson's Second Liners (pictured), a brass band renowned for their infectious beats and uplifting dance tracks. Their exuberant performances are guaranteed to get everyone moving and set the festive mood for the evening.
Joining the procession will be a fantastic array of Preston's finest procession groups, showcasing the city's diverse cultural heritage. Caribbean Carnival will bring their vibrant and colourful costumes, and Preston City Mela will infuse the procession with a sense of celebration and joy. Cacophony Arkestra will delight with their unique fusion of music and street theatre, while Bay Beat will enchant the audience with their rhythmic beats.
Adding to the excitement, the Worldwise Samba Drummers will create a rhythm that will energise the streets, while Dance Syndrome, a talented inclusive dance group, will showcase the power of dance to break barriers and celebrate diversity.
The Torchlight Procession will weave its way through the city centre, creating an extravaganza of music, dance, and spectacle. Audiences can expect a joyful and immersive experience as they follow the procession, celebrating the spirit of the Encounter Festival and the vibrant community of Preston.
The procession will culminate in a spectacular finale at the Guild Hall, Preston, where a firework display will light up the night sky, providing a stunning conclusion to the Saturday programme. The combination of music, dance, and fireworks promises to create an unforgettable moment that will leave a lasting impression on all who witness it.
Councillor Peter Kelly,Cabinet Member for Culture and Leisure Services at Preston City Council, said:
"Encounter Festival invites everyone to be a part of this unforgettable celebration of music, culture, and community. Don't miss the Torchlight Procession, a vibrant and unmissable event that will bring the streets of Preston to life."
Mark your calendars for Encounter Festival 2023, from September 15 until 17, a celebration that brings together heritage, art, and community in an extraordinary fusion of creativity.
More information
About Encounter Festival
Encounter Festival is an authentic voice for Lancashire, celebrating the breadth of the County's diverse cultural offer with high quality and high-profile arts. Taking place at the end of September, Encounter Festival sees the city of Preston buzzing with life and alight with creativity. The past Encounters have seen an array of spectacular performances, inspiring arts and impressive music, bringing spectators to their feet.
About The UK Shared Prosperity Fund
The UK Shared Prosperity Fund is a central pillar of the UK government's Levelling Up agenda and provides £2.6 billion of funding for local investment by March 2025. The Fund aims to improve pride in place and increase life chances across the UK investing in communities and place, supporting local business, and people and skills.
About Arts Council England
Arts Council England is the national development agency for creativity and culture. We have set out our strategic vision in Let's Create that by 2030 we want England to be a country in which the creativity of each of us is valued and given the chance to flourish and where everyone of us has access to a remarkable range of high quality cultural experiences. We invest public money from Government and The National Lottery to help support the sector and to deliver this vision. 
Following the Covid-19 crisis, the Arts Council developed a £160 million Emergency Response Package,  with almost 90% coming from the National Lottery, for organisations and individuals needing support. We are also one of the bodies administering the Government's unprecedented £1.96 billion Culture Recovery Fund.
#VisitPreston - Share your experiences
Share your Preston adventures and discover new places to enjoy using #VisitPreston.