Encounter Festival showcases a diverse and captivating lineup
4 September 2023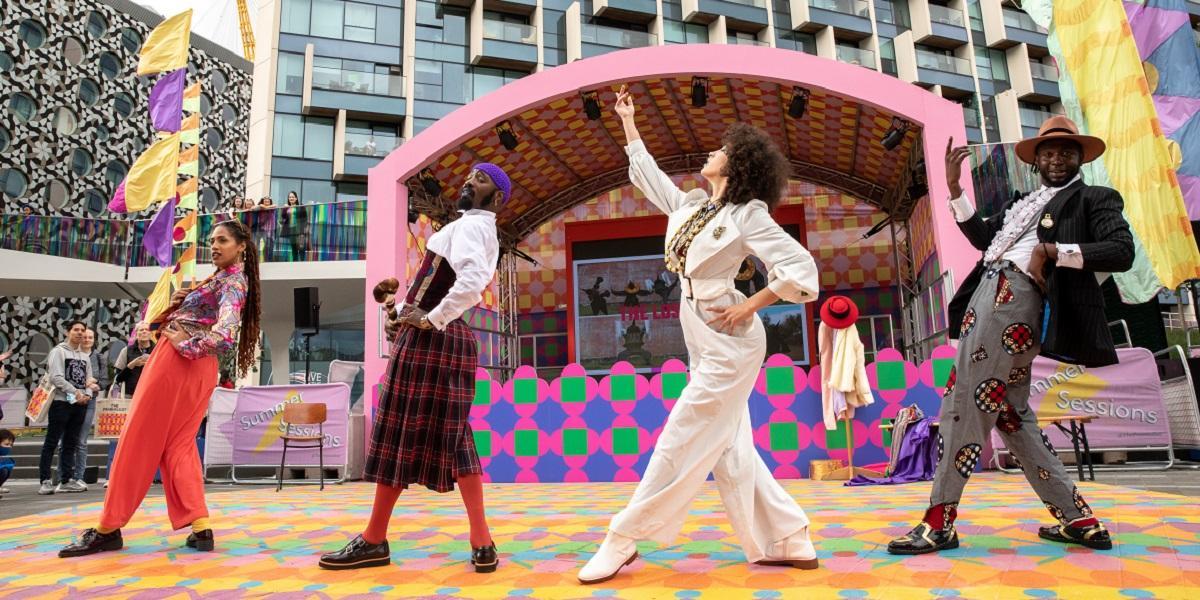 Encounter Festival is pleased to unveil the exceptional lineup of performances that will take over Preston with creativity and performance during the weekend of Friday 15 until Sunday 17 September. The festival promises an immersive and engaging experience for attendees, with an eclectic mix of shows, workshops, and activities to entertain and inspire.
Among the featured performances, festival goers will have the opportunity to see 'The Lighter Jams' by Ryan and Chris of Jeramiah Ferrari fame. Their energetic and entertaining live show, encompassing soul, pop, rock, and reggae covers, is set to be a highlight of the festival's Friday night program.

The festival also embraces the art of dandyism with a dance show that explores the fashion, style, and post-colonial freedom represented by dandies throughout history. 'Dandyism' presents a flamboyant and energetic performance by choreographer Patrick Ziza. The innovative dance work weaves Dandyism's evolution into a modern-day symbol, boldly addressing gender and cultural identity.

For the younger audience, 'Baby Boo' will create a magical atmosphere through lighting, sound, colours, and film projections. This interactive experience encourages brain development, learning, and tonnes of fun for babies and children.

'Magical Story Jars' will ignite children's imaginations through a drop-in activity where they can create their own stories using character, setting, and plot story cards. With a treasure trove of intriguing objects to spark creativity, children will be able to write their very own short stories, book covers, or comics.
The Community and Traditions Stage, located outside The Guild Hall, Preston will host traditional Lancashire Clogging, fusion performances, local choirs, and Qawaali Singing by Urooj Qawwal. The stage will be hosted by Hussnain Hanif, BBC Radio Lancashire broadcaster, and leader of the Nasheed Choir.
Councillor Peter Kelly, Cabinet Member for Culture and Leisure Services at Preston City Council, said:
"Encounter Festival is a celebration of art, culture, and creativity, and I am thrilled to see such a diverse and captivating lineup of performances set to grace the stages of Preston this September. From the high energy of 'The Lighter Jams' to the imaginative storytelling of 'Magical Story Jars,' there truly is something for everyone.

The festival's embrace of dandyism and its commitment to showcasing traditional and fusion performances on the Community and Traditions Stage exemplify the rich tapestry of talent and culture in our county. I invite everyone to join us at the Encounter Festival for an immersive and unforgettable experience that will leave you inspired and entertained."
More information about the festival's line up and performances can be found on Encounter Festival.
Mark your calendars for Encounter Festival 2023, a celebration that brings together heritage, art, and community in an extraordinary fusion of creativity. Stay tuned for updates and announcements as we embark on this exciting journey together.
More information
About Encounter Festival
Encounter Festival is an authentic voice for Lancashire, celebrating the breadth of the County's diverse cultural offer with high quality and high-profile arts. Taking place at the end of September, Encounter Festival sees the city of Preston buzzing with life and alight with creativity. The past Encounters have seen an array of spectacular performances, inspiring arts and impressive music, bringing spectators to their feet.
About The UK Shared Prosperity Fund
The UK Shared Prosperity Fund is a central pillar of the UK government's Levelling Up agenda and provides £2.6 billion of funding for local investment by March 2025. The Fund aims to improve pride in place and increase life chances across the UK investing in communities and place, supporting local business, and people and skills.
About Arts Council England
Arts Council England is the national development agency for creativity and culture. We have set out our strategic vision in Let's Create that by 2030 we want England to be a country in which the creativity of each of us is valued and given the chance to flourish and where everyone of us has access to a remarkable range of high quality cultural experiences. We invest public money from Government and The National Lottery to help support the sector and to deliver this vision. 
Following the Covid-19 crisis, the Arts Council developed a £160 million Emergency Response Package, with nearly 90% coming from the National Lottery, for organisations and individuals needing support. We are also one of the bodies administering the Government's unprecedented £1.96 billion Culture Recovery Funds.
Discover what's on across the city
To find out what events are taking place across Preston take a look at our What's On calendar.
#VisitPreston - Share your experiences
Share your Preston adventures and discover new places to enjoy using #VisitPreston.