The Pawfect Way to Celebrate National Pet Month in Preston
Posed: 1 April 2022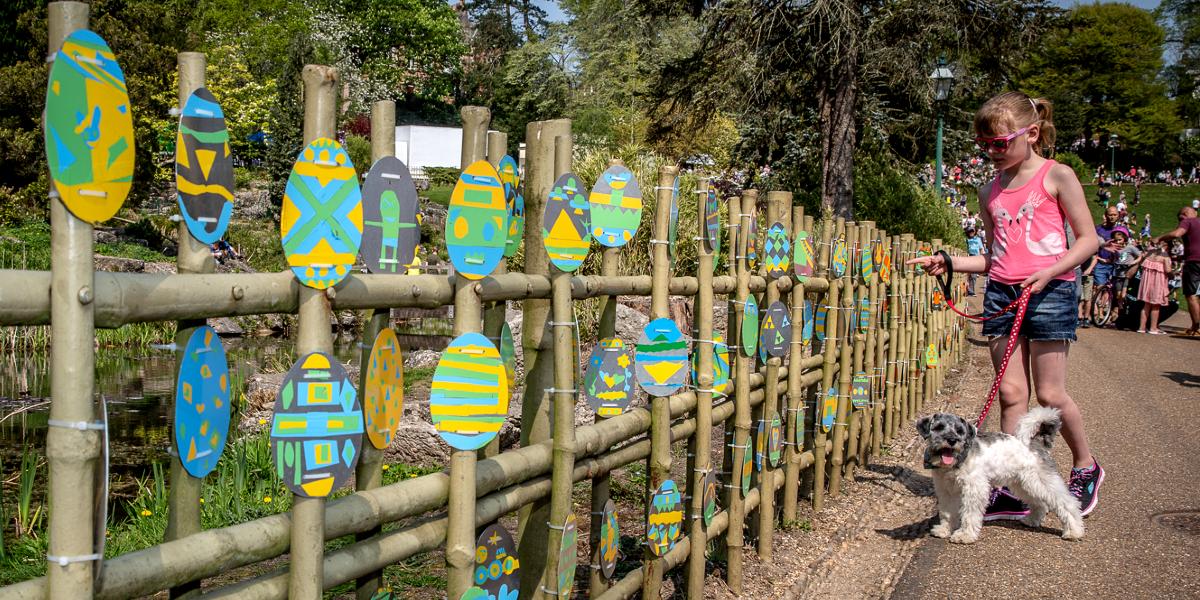 April is National Pet Month, and where better to celebrate it than in Preston - a city with an abundance of dog-friendly eateries and days out. Visit the city centre or surrounding Preston areas; however you choose to spend your spare time, your pooch can join in the fun.
This April also welcomes a number of outdoor events, perfect for quality outdoor weekends with your four-legged friend. The most popular, of course, is Preston's annual Egg Rolling event in Avenham Park. This family-friendly and dog-friendly event is perfect for enjoying some Easter sun whilst stretching your pooch's legs and taking in the beauty of the parks. You will also find the dog-friendly Pavilion Café on Avenham Park, and The Continental just outside Miller Park.
For more outdoor events taking place this April make sure to check out our Events Calendar.
A dog-friendly visit to the city centre
Perhaps one of Preston's most popular attractions are Avenham & Miller Parks, as well as Winckley Square just around the corner. These beautiful and vast outdoor spaces can be enjoyed by dogs and humans alike. On the Ribblesdale Place entrance to Avenham Park, you will find Holy Grounds Coffee & Doughnuts serving hot drinks and fresh doughnuts as human treats, and a jar of free doggy treats and fresh water for your pooch whilst you wait. For lunches, coffee, and cakes, the Pavilion Café on Avenham Park welcomes dogs indoors, or you can grab your food and drink to go and sit beside the River Ribble. Further along down the river, at the end of Miller Park, you will find The Continental. Here you can enjoy craft beer and evening meals with your pooch, either indoors or in their large beer garden.
A trip to Preston's High Street is also a fantastic option for treating your four-legged friend. Ideally located near Avenham & Miller Parks and Winckley Square, the city's many dog-friendly eateries provide you with a flurry of options for food, drink, and treats. Visiting Preston Flag Market on the second Saturday of each month, you will also find the outdoor Makers Market, where you can purchase gourmet food, drink, and gifts. Many of these Makers Markets also feature stall holders selling doggy cakes, collars, leads, bandanas, and more. Overlooking the Flag Market is the dog-friendly Cafuné South American café or just around the corner you will find The Larder, with their locally-sourced menu.
Taking a trip down Friargate also provides you with dog-friendly bar options such as Roper Hall, where your dog can join you inside the modern and cosy pub, or outside in their spacious beer garden. Tucked away off Friargate is also the café, bar, and store Once Was Lost where you can shop, eat, and drink in the company of your pup.
A dog-friendly visit to wider Preston
There are many fantastic days out in Preston, fun for dogs and their humans!
Preston Docks is a foolproof way to stretch everyone's legs, with the Beach Hut Coffee Shop nearby where you can enjoy a bite to eat and a drink alongside sausages for dogs and doggy ice cream. The circular route around the water can be a peaceful day out and, with a popular pet shop along the route, you can spoil your dog with a little shopping spree for a new toy or something edible (you know, because they deserve it!). You can easily expand your day out from Preston Docks, thanks to Ashton Park just a short walk away. Ribble Steam Railway and Museum is also a short walk from here, welcoming dogs to join their humans on a steam train ride and a visit to the museum.
For dogs that like a good run, Moor Park and its vast green space make the ideal visit. When you're done exploring you will find the Rosemary on the Park café on the edge of the park, along Moor Park Avenue. Rosemary on the Park is a popular spot for dog walkers and offer seating indoors and outdoors, where dogs can join you and enjoy some tasty treats of their own from the café.
Those looking for a spot of Preston's history and heritage can pay Samlesbury Hall a visit. Perfect for sunny days, the venue welcomes dogs in its grounds, including its beautiful courtyard where outdoor seating for the Hall's wafflery is also located.
More dog-friendly Preston
The furry fun doesn't end here. See our Dog-Friendly Itinerary for a comprehensive guide to visiting Preston with your pooch, including dog-friendly accommodation.
Map addresses for National Pet Month in Preston
Avenham and Miller Parks, South Meadow Lane, Preston, PR1 8JP.
Winckley Square, Preston, PR1.
Holy Grounds - Coffee & Doughnuts, 13 Ribblesdale Place, Preston, PR1 3NA.
Pavilion Café, Avenham Park, Preston, PR1 8JT.
The Continental, South Meadow Lane, Preston, PR1 8JP.
Cafuné - South American Café, 35 Market Street, Preston, PR1 2AR.
The Larder Café Preston, 50 Lancaster Road, Preston, PR1 1DD.
Preston Marina, Navigation Way, Ashton-on-Ribble, Preston, PR2 2YP.
Beach Hut, Marine Services, Navigation Way, Ashton-on-Ribble, Preston, PR2 2FS.
Ashton Park, Pedders Lane, Ashton-on-Ribble, Preston, PR2 1HL.
Ribble Steam Railway & Museum, Chain Caul Road, Ashton-on-Ribble, Preston, PR2 2PD.
Moor Park, Moor Park Avenue, Preston, PR1 6AS.
Rosemary on the Park, Moor Park Avenue, Preston, PR6 1AU.
Samlesbury Hall, Preston New Road, Samlesbury, Preston, PR5 0UP.