Preston Festivals for Your 2022 Diary
Posted: 5 May 2022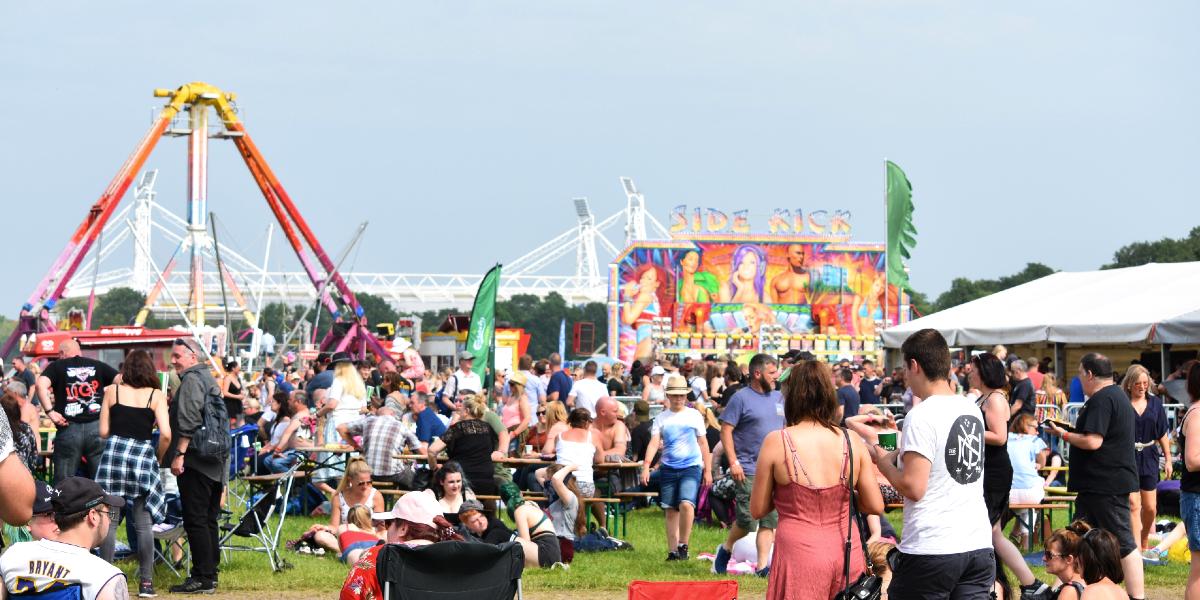 With Summer just around the corner, now is the time to make note of the many festivals coming to Preston for 2022. Beginning in Spring, and keeping you entertained throughout the summer, there are all kinds of festivals coming to the city. Families, music-lovers, foodies, shoppers - everyone is catered for this year in Preston.
The city's extensive event programme begins now. With the Lancashire Fringe Festival kick-starting the festival fever, thanks to a variety of art, cultural, and comedy performances. Families are also catered for with a number of workshops and activities taking place in the .
Lancashire Fringe Festival | Tuesday 26 April - Tuesday 24 May
Now in its third year, the Lancashire Fringe Festival welcomes renowned performances to the city. The festival delivers plenty of laughs, thanks to a quality mix of comedy performances and stand-up, as well as spoken word, theatre, and family-friendly events.
See Lancashire Fringe Festival Returns for 2022 for what's on.
Preston Jazz & Improvisation Festival | Saturday 14 May - Saturday 28 May
Preston Jazz & Improvisation Festival returns to city venues with two weeks of music, workshops, and conferences. This annual festival of music and culture features DJ sets from the likes of Zed Bias and Chunky, and wraps up with the ever-popular event on Saturday 28 May.
For a full line-up see .
The Northern YA Literary Festival | Saturday 21 May - Sunday 22 May
Whether you're a lover of literature, a writer or illustrator, or hoping to become one, the University of Central Lancashire's annual festival is the place to be. The event includes workshops, panels, and signings, and features a special Kids' Literary Festival on the Sunday.
For what's on over the weekend visit the Northern YA Literary Festival website.
Caribbean Carnival | Saturday 28 May - Sunday 29 May
Preston's annual Caribbean Carnival is back this May 2022. The tradition of a colourful procession through Preston will be back once more, winding through the city and ending at Moor Park where even more fun awaits! The park will host Caribbean food stalls, bars, children's activities, live performances, and much more - suitable for the whole family.
Live performances will include the local One Voice Community Choir, Caribbean Latin band, Phase One Steel Band, and many more. Local dance troupes will also be back with new routines and costumes to wow crowds, along with visiting dance troupes who will display traditional costumes.
The route will begin at Moor Park, down Deepdale Road, towards the city centre, left into Meadow Street, St Paul's Road, Sedgewick Street, and return to the park via North Road and the Garstang Road entrance.
Celebrations start the day before with the , a ticket only event.
Rockprest | Saturday 2 July - Sunday 3 July
Rockprest 2022 will take place at its usual home on Moor Park. The UK's biggest tribute act festival, catch all your favourite bands and acts in tribute form! Acts confirmed include tributes to Foo Fighters, Kiss, Linkin Park, Blink 182, Korn, Bowie, Kings of Leon, Fleetwood Mac, Pink Floyd, Greenday, and REM.
To get your tickets visit Ticketline - Rockprest 2022.
Preston Arts Festival | June
Preston Arts Festival will be filling the city with all things art this June. There will be a range of events for everyone to enjoy as well as art, dance, history, music, film, walks, and talks.
For what's on over the festival visit the Preston Arts Festival Facebook.
More upcoming festivals
There are a number festivals, taking place annually in Preston, to get excited about. Keep your eyes peeled for confirmed dates and more!
Lancashire Science Festival
The Lancashire Science Festival is a free weekend event, featuring a whole host of exciting presentations, hands-on activities, and exhibits. It is a must-visit for anyone interested in science, technology, engineering, maths, health, and more. The hands-on activities and fascinating exhibits also makes the Science Festival the perfect day out for curious kids. The festival is hosted by the University of Central Lancashire, at the Preston Campus, usually around late June/early July.
Visit the Lancashire Science Festival website for updates.
Prestfest
Prestfest is an annual festival of music, taking place on Preston Flag Market. The event usually features a family-friendly concert during the daytime, followed by evening performances. Last year's Prestfest included acts such as The Freemasons, Martin Kemp, and Ska Face. This year's event should be taking place around August.
Keep an eye on our Events Calendar for updates.
Lancashire Encounter Festival
Lancashire Encounter Festival has been confirmed for Friday 16 September - Sunday 18 September. This weekend event celebrates art and culture in Preston, jam-packed with performances, installations, workshops, and more.
Visit the Lancashire Encounter website for updates.
Summer events
See our Events Calendar for upcoming Preston events for your diaries. With new events uploaded daily, you're guaranteed to find something to spice up your summer, whatever you're into!