Preston Caribbean Carnival Through the Years
Posted: 24 May 2022 - Reviewed: 13 January 2023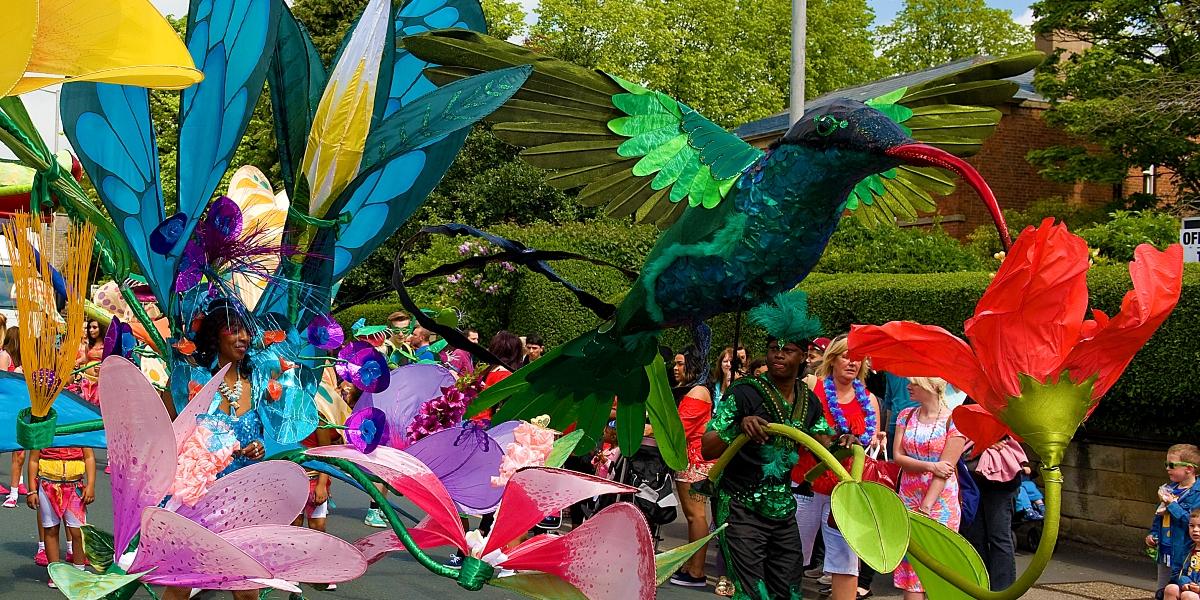 Preston's Caribbean Carnival takes place every year, celebrating and embracing the Caribbean culture in the city. Its roots run back to the Preston Guild, where the carnival gained momentum as an event after the 1972 Preston Guild community procession. This led to the Caribbean Carnival's official creation in 1974, founded by local Prestonians with origins in St Vincent and the Grenadines, Dominica, and other Caribbean islands.
Each year a procession takes place in the city, involving communities and groups in Preston. These colourful processions are themed around the Caribbean and involve fantastic, creative costumes and props - not to mention dancing and the rhythms of the Caribbean! The procession sweeps through the city, ending at Moor Park where there are Caribbean food stalls, music and dance performances, fairground rides, and a whole range of carnival celebrations.
The carnival attracts tens of thousands of visitors each year and is open to people of all ages. You will normally find the event taking place in August, though there is no set date (Preston Caribbean Carnival 2022 takes place in May).
Caribbean Carnival traditions
The Preston Caribbean Carnival follows a different theme each year, with costumes specially created surrounding these themes. Past themes have included sealife and Ancient Egypt.
Each year a King and Queen are crowned. This happens a couple of weekends before the carnival itself with, once crowned, many Kings and Queens attending events leading up to the carnival. The crowning takes place as a large event, traditionally on , which is attended and watched by crowds in the city. Hopeful Kings and Queens create their costumes based on the year's theme, and perform displays of dance and music to impress the crowds and judges. The winning contestants are then crowned and will attend the parade as Caribbean Carnival King and Queen. Previous year's winners include a dramatic cobra and magnificent dragon.
The Carnival on the day kicks off the celebrations with a parade through the streets of Preston, continuing through the city centre, and ending in Moor Park. The festivities at Moor Park are traditionally followed with Caribbean food and entertainment, with many years involving fairgrounds and music.
Past Caribbean Carnivals galleries
Follow the Caribbean Carnival on social media
More of Preston's annual events
There are a large number of events you can expect to visit annually in Preston. See Annual Events for more information and to find even more reasons to visit the city.